Our 2016 Dixon Lunch was held October 5 and was a tremendous success thanks to our great guests and sponsors! Please check out photos from the most recent awards lunch here. We will host the 2017 Dixon Lunch at a date to be determined. Feel free to reach out to membership@nmfog.org to inquire about upcoming sponsorship opportunities.
—
At the annual luncheon, we honor local open government champions. Since 2002, FOG has given the William S. Dixon First Amendment Freedom Award to individuals and organizations that advance transparency in the areas of law, journalism, education, government and business. The award is in memory of FOG co-founder and longtime board member William S. Dixon, who was an Albuquerque attorney and leading defender of the First Amendment and the state's sunshine laws.
Ann Cooper, Keynote Speaker
This year's speaker at the Dixon Award ceremony will be Columbia University professor Ann Cooper. As a foreign correspondent with NPR, she was an eyewitness to the fall of communism in the former Soviet Union and to the dismantling of apartheid in South Africa. Upon her return to the United States, Ms. Cooper served as executive director of the Committee to Protect Journalists, which is an independent, nonprofit organization that promotes press freedom worldwide. Learn more about Ms. Cooper here.
Terri Cole, Business Award
Terri Cole, president/CEO of the Greater Albuquerque Chamber of Commerce, was one of the first members of the New Mexico business community to make the link between government transparency and a strong business climate. Ms. Cole served on the FOG board of directors for many years, and during her tenure, was president of the organization for three years.
Steve Terrell, Journalism Award
Throughout his 29 years as a reporter at The Santa Fe New Mexican, Steve Terrell has been an advocate for open government, always demanding transparency from public servants and government entities. In 2015, he successfully overturned a government order that would have prevented the publication of information legally obtained from a public records request.
Dr. Annette Marie Rodriguez, Education Award
Dr. Annette Marie Rodriguez, an instructor at Northern New Mexico College in Espanola and at Santa Fe Community College, used both the Open Meetings Act (OMA) and the Inspection of Public Records Act (IPRA) to shine a light on mismanagement at Northern New Mexico College. Her efforts under IPRA eventually lead to the resignation or removal of four of the five top administrators at the college.
Norm Gaume, Citizen Award
Norm Gaume, a resident of Albuquerque, is a citizen activist who has been relentless over the last two years in using IPRA and OMA to shine a light on controversial decisions by the government to divert the Gila River. Mr. Gaume continues to insist that officials discuss the issue in front of the public and even sued to open up subcommittee meetings of the Interstate Stream Commission.

We look forward to hearing from Ms. Cooper and honoring these government transparency warriors. We hope you'll join us!
Join these generous sponsors: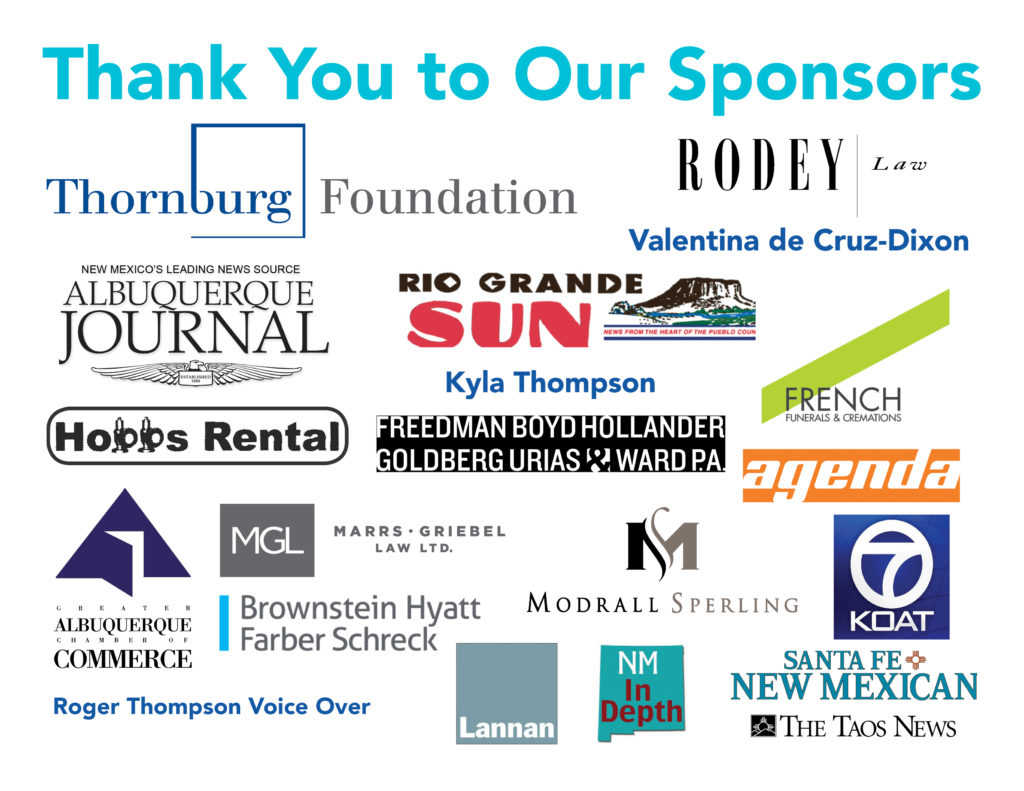 Please contact Shannon Kunkel for sponsorship information by emailing membership@nmfog.org or calling 505-205-5067.