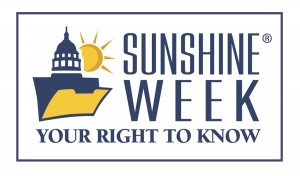 Sunshine Week is a national initiative held annually in March to bring greater awareness to issues of transparency in government. This year Sunshine Week is March 10 – 16, 2019.
Click here to read a Sunshine Week Op-Ed by Lucas Peerman, the news director of the Las Cruces Sun-News and a FOG board member.
The New Mexico Foundation for Open Government (FOG) participates every year by penning editorials, sharing open government information and resources and making public presentations throughout New Mexico.
Click here to listen to a podcast about FOG and transparency.
Click here to see Gov. Michelle Lujan Grisham talk about transparency. This video is from FOG's gubernatorial candidate's forum held prior to the 2018 election.