Registration now open
"Lifting the FOG on Public Records Access" is the title for FOG's 2019 Continuing Legal Education (CLE) Seminar set for Dec. 4, 2019, at the Albuquerque Journal Auditorium, 7777 Jefferson St. NE, in Albuquerque, beginning at 9 a.m.
New Mexico Supreme Court Justice Judith Nakamura is our kick-off-speaker.
Those in attendance have the opportunity to learn about the latest court decisions concerning IPRA including Corizon Health vs. NMFOG et al; Data Collection and compliance with IPRA from Ethan Watson of the City of Albuquerque; an overview of the Risk Management Settlement Secrecy statute – 15-7-9; and OMA/IPRA issues the Attorney General is facing with Tania Maestas of the Attorney General's office. There will also be an ethics segment.
Online registration is now open for the day-long seminar. Click here to register. Registration for FOG members is $200. Non-member registration is $250, and this year there is a special rate of $50 for students who have a current/valid student ID.
Registration fees may also be mailed to the FOG office at 2333 Wisconsin St. NE, Albuquerque, NM 87110.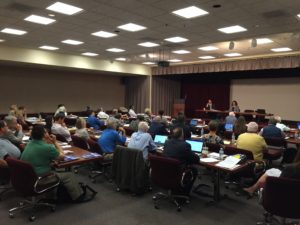 Please contact Melanie J. Majors at info@nmfog.org with any questions.