U.S. PIRG released a report yesterday ranking and grading states on online budgetary transparency.  New Mexico faired better than some, but shows plenty of room for improvement, receiving a 'C+' and a score of 77 out of a possible 100.
"Every year, state governments spend hundreds of billions of dollars through contracts for goods and services, subsidies to encourage economic development, and other expenditures. Accountability and public scrutiny are necessary to ensure that the public can trust that state funds are spent as well as possible.
This report, our sixth annual evaluation of state transparency websites, finds that states continue to make progress toward comprehensive, one-stop, one-click transparency and accountability for state government spending. Over the past year, many states have launched new and improved websites to better open the books on public spending, or have adopted new practices to further expand citizens' access to critical spending information. Some states, however, still have a long way to go.
Transparency Websites Make Government More Effective and Accountable: States with good transparency web portals have experienced a wide variety of benefits. Transparency websites have helped governments find ways to save money and meet other public policy goals."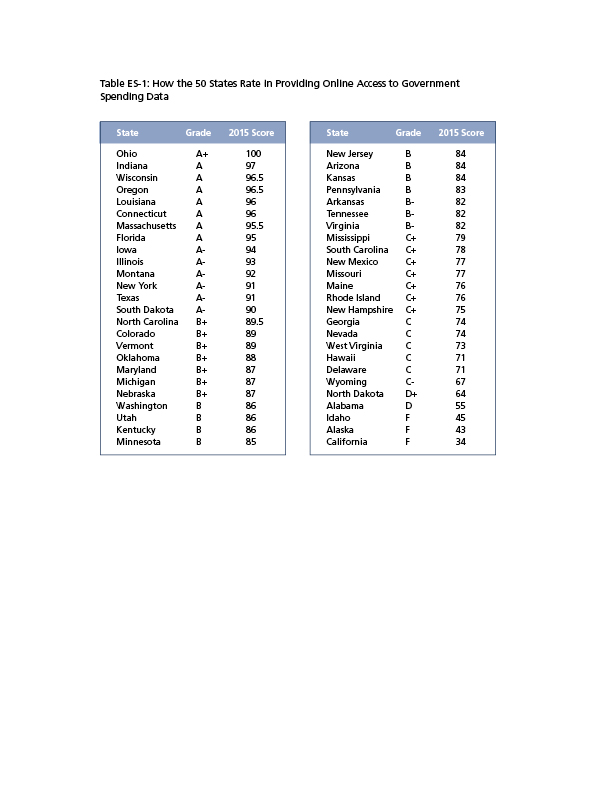 http://uspirg.org/reports/usp/following-money-2015